Understanding and aligning link worker and community capacity building activity: A place-based approach in York and Wakefield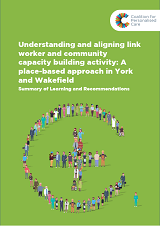 This report - commissioned by NHS England and delivered by Coalition for Personalised Care and partners - sets out how be employing link workers helps build community capacity and help health colleagues to deliver greater personalised health, including links to social prescription.
It found that community groups and local people often lack the resource to respond to the needs of the people introduced to them by link workers. Link workers with small budgets can use them to support community groups and fill gaps.
In order for people and communities to become well and stay well, the report suggests the need for four things:
Opportunities to connect with each other
Space to meet – space to think – and space to find their own solutions
Opportunities to employ and enjoy their skills, talents and passions
To be able to take control over their lives and the places where they live