Unblocking: Securing a health and social care system that protects older people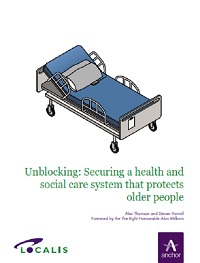 This report by think tank Localis, explores the failures of the health and social care system, which is resulting in sub-standard care for the older population.
The study involved extensive interviews with local health experts, a survey of more than 100 senior local government figures and a number of case studies.
The report, produced in partnership with Anchor, addresses some of the recent issues witnessed in the health service, explores the reasons behind them and argues that recent changes need to go further.
It argues that it is older people who are suffering the most from the lack of health and social care integration. They are more likely than any other age group to face unnecessary admissions to hospital, and to experience lengthy discharge delays and poor standards of care - problems that are only likely to be compounded by shrinking health and social care budgets.
These vital issues will become ever more critical as the population of England continues to age.