'Transforming Primary Care - Safe, proactive, personalised care for those who need it most'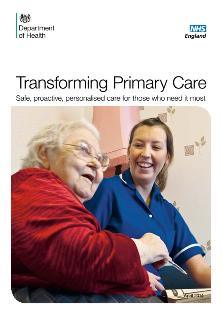 The Government's strategy for the future of out-of-hospital care services sets out the vision for primary and community care services to become more proactive, personalised and joined up. Importantly, housing is recognised in several places including in relation to hospital discharge planning. In addition, the strategy signposts to the Hospital2Home resource pack exclusively available on the Housing LIN website.
In addition, the strategy makes the link with housing as part of care and support planning arrangements for those people with complex needs and also measures to improve housing quality to reduce health inequalities. For example, it refers to cold homes and resultant impact on the physical and mental health, particularly for people under 5, over 75 and or with pre-existing health conditions. In particular, it identifies the following problems and the links to cold homes:
Cold related mortality: Excess Winter Deaths (EWDs), claimed an estimated 31,000 lives in England and Wales in 2012/13. Estimates suggest that around a fifth of Excess Winter Deaths can be attributed to living in cold homes.
Cold related morbidity: living in cold homes can result in or exacerbate poor physical health including cardiovascular and respiratory problems.
Mental health impacts: There are also links between living at low temperatures and mental well-being in adults with links to common mental disorders. The stress of living in a cold home can increase the risk of anxiety and depression.