Tom - providing reassurance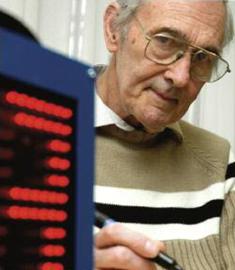 Tom is 73 and lives in the family house that he and his wife bought over 40 years ago. His wife died some years ago and his daughter who lives nearby has provided increasing levels of support since he was diagnosed with dementia two years ago. He wants to stay in his home if he can and his daughter contacted the local home improvement agency (HIA) to ask about some changes that might help Tom to do this. A case worker from the HIA met Tom and his daughter to find out about any practical issues in the home and the ways that Tom's past could be drawn on to improve his life now.
Some changes were made to the house, swirly patterned carpet that made Tom worry that it had holes in it was replaced with a plain style and flood sensors were fitted in the bathroom to shut off the water if the taps were left on by mistake. In discussion with his daughter and case worker Tom recalled how much he had enjoyed running a successful family business. Using furniture and papers that had been in the original office they recreated an area in the house where Tom could write and read and obtain reassurance if he got anxious or confused.