Together in the 2020s: twenty ideas for creating a Britain for all ages by 2030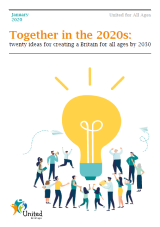 This new report by United for All Ages highlights twenty radical ways to create 'a country for all ages' by 2030, countering ageism, loneliness and poor health, care, learning and housing in divided Britain.
It calls for urgent action to tackle the divisions facing older and younger generations and unite Britain. It showcases a number of intergenerational projects that have changed attitudes to ageing, reduced ageism and increased trust in a country where people are often divided by age. And with ideas and insights from a number of leading organisations, including the Housing LIN, the report makes key recommendations for action for all age. For example:
every community: developing 1000 centres for all ages and enabling more care homes to become community hubs; extending schools' opening hours to provide community spaces for intergenerational activities; scaling up homesharing schemes for older and younger people as part of the growth in intergenerational living; promoting residential streets as play spaces; training students together on intergenerational projects
And on the housing front, it not that in recent decades intergeneration divide has been exacerbated by the housing market with older people more likely to live in rural areas and towns with younger people in city centres. Residents of some local authorities are much older on average than other areas, and vice versa, putting pressure on local services and finances. Wealth has become more concentrated amongst older age groups.
Stephen Burke, director of United for All Ages, said: "Bringing Britain together is one of the biggest challenges for the new decade. The last decade saw huge disconnection and division. The 2020s can be different. Ending 'age apartheid' and ageism and promoting more intergenerational mixing could help create a Britain for all ages by 2030 – united not divided.
If you found this of interest, read Stephen's recent Housing LIN guest blog, Creating a Britain for all ages (opens new window).