Tobacco control and housing: A case for action from both sides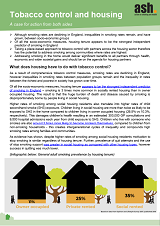 This leaflet from ASH, the charity on action of smoking and health, provides a range of useful information on the harmful effects on smoking, the link to health inequalities and the impact on housing.
From increased poor health and disability on smokers and their households to the financial implications from the cost of smoking on managing and maintaining their home. It also highlights that the prevalence of smoking is greatest amongst those people living in social rented accommodation and signposts to useful additional sources of information to support greater tobacco control and housing.