'To make it better to live, you know? - A Hoarding and Supported Housing study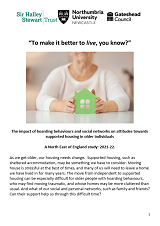 A team of researchers from the Faculty of Health and Life Sciences at Northumbria University, together with colleagues from the housing team at Gateshead Council, worked together on a 12-month project funded by the Sir Halley Stewart Trust to study and explore older people's experiences of moving from independent to supported housing.
The study drew on quantitative and qualitative techniques to measure the impact of hoarding behaviours and social networks on attitudes towards supported housing in older people. Interviewing 50 people from the North East, this summary found moving house is stressful at the best of times, and many people will need to leave a home they have lived in for many years. It highlighted that the move from independent to supported housing can be especially difficult for people with hoarding behaviours, who may find moving traumatic and whose homes may be more cluttered than usual.
The team are now looking to use the rich data collected to inform a best practice toolkit for enable housing providers to better understand barriers hoarding individuals face when considering supported housing.