Tips to help your remote project tackle loneliness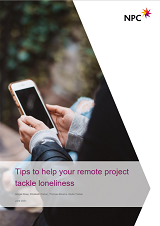 This report draws upon a developmental evaluation of the BCF, the first ever cross government fund dedicated to reducing loneliness in England, delivered in partnership with The National Lottery Community Fund and the Co-op Foundation.
Written by Abigail Rose, Elizabeth Parker, Thomas Abrams and Giulia Todres, this New Philanthropy Capital (NPC) paper addresses the issues, challenges and questions that were raised by Building Connections Funds (BCF) grant-holders as they adapted their services in the Covid-19 pandemic.
Included in the report, is:
guidance on how to move offline projects, online. This includes how to better engage with service users digitally and ensure that the most is being made from services in the same way they would face-to-face.
information on how to safeguard during a crisis, including how to update relevant policies and encourage dialogue around online safety when it comes to digital delivery.
a review of the effectiveness of digital interventions by looking at what the evidence suggests about how online interventions reduce loneliness.
useful information on how to measure, evaluate and learn in a crisis.
Targeted towards the 126 BCF grant holders during the first stages of the Covid-19 pandemic, it is now hoped that by sharing the findings outlined in this report, other organisations will be able to tackle the same challenges moving forward.