The role of home adaptations in improving later life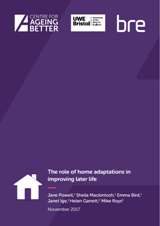 This report is one of two new resources from the Centre for Ageing Better and the University of West of England. The findings identify that small changes to homes can improve quality of life and relieve pressure on NHS and social care.
They also find that making small changes to older people's homes, such as installing handrails, ramps and level-access showers, alongside carrying out simple home repairs, could play a significant role in relieving pressure on the NHS and social care and reduce costs by millions of pounds each year. It argues that making these kinds of small changes to homes earlier, alongside repairs to homes, should be a greater priority for local services, and could help to avoid or delay use of NHS and social care.