The lives we want to lead - The LGA green paper for adult social care and wellbeing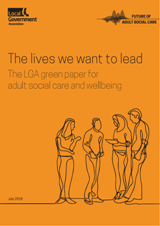 The LGA have published their Green Paper on adult social care and wellbeing and an accompanying suite of resources along with an 8 week consultation document. The deadline for submitting a response is 26 September 2018.
The paper showcases several housing related examples of practice that have a social care 'dividend' such as the work of the jointly commissioned sector-leading care and repair across Bristol, Bath and NE Somerset and North Somerset Councils and Central Bedfordshire Council's progressive housing strategy to meet the housing needs of older people (Annex A).
The paper also draws attention to the future funding of social care and also outlines several different approaches to meet the cost, including:
Increasing income tax for taxpayers of all ages – a 1p rise on the basic rate could raise £4.4 billion in 2024/25
Increasing national insurance – a 1p rise could raise £10.4 billion in 2024/25
A Social Care Premium - charging the over-40s and working pensioners an earmarked contribution (such as an addition to National Insurance or another mechanism). If it was assumed everyone over 40 was able to pay the same amount (not the case under National Insurance), raising £1 billion would mean a cost of £33.40 for each person aged 40+ in 2024/25.
Means testing universal benefits, such as winter fuel allowance and free TV licences, could raise £1.9 billion in 2024/25
Allowing councils to increase council tax – a 1 per cent rise would generate £285 million in 2024/25
To have your say on these proposals, read the LGA's green paper and complete their online form here (opens new window).