The influence of social care on delayed transfers of care (DTOCs) among older people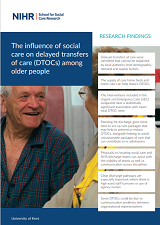 This study, funded by the NIHR School for Social Care Research and led by Dr Karen Jones from the Personal Social Services Research Unit (PSSRU) at the University of Kent, explores why delays in discharge happen and how they might be reduced or prevented.
Building on previous research linking unnecessarily long stays and increased requirement for social care support following discharge, the findings of this study help us to understand the relationship between delayed transfers of care (DTOCs) and community support.
Key findings from the report in association with social care influence of DTOCs, includes:
DTOC rates were significantly affected by social care supply.
Every Extra Care Housing provider per 10 square kilometres decreased DTOCs by 6.7% (the equivalent to 178 – 212 days per quarter for the average local authority).
The care home bed effect: a 1% increase in case home bed supply reduced DTOCs by 0.4 – 0.55%.
Other findings include:
Some DTOCs identified cannot be explained by local authority-level demographic, demand and supply factors.
Clear discharge pathways are critically important where there is a high ward staff turnover.
Communication problems between organisational representatives could, in some cases, cause DTOCs.