The future of home: a mutual approach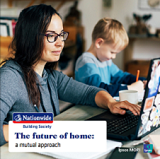 Led by Nationwide Building Society, 25 major organisations have joined forces to tackle the UK housing crisis by forming action groups that will collaborate to help solve existing and future problems. The mutual approach to solving problems in the housing system comes as the pandemic has exacerbated longstanding issues around the affordability. Accessibility and sustainability of homes.
It is hoped that the four action groups will find ways of building more homes, delivering more of the right types of homes and encouraging more green homes, ensuring everyone can have a place ore than fit to call home, whether owned or rented.
There are 4 key action groups that aim to find solutions to issues around housing affordability, accessibility and sustainability:
New homes: Increasing the number of new homes built across all tenures, ensuring they meet the needs of first-time buyers, home movers and downsizers, and meeting high energy-efficiency standards.
Green homes: Delivering practical solutions and policies to help people green their homes. Building awareness of the problem, closing the skills gap and making sure it's fairly financed.
Rental: Creating a private rented sector (PRS) that works for the mutual good of landlords and renters potentially including better access to justice, a national landlord register and reform of tenancy deposit.
Delivery: Speeding up the delivery of new homes by removing inefficiencies in the system, building trust between parties and adopting more agile approaches.
In relation to availability and new homes, the report found that:
1/3 of Generation z think older people living in large home should downsize,
while 1 in 5 would like to live in a multi-generational household
Building more smaller homes needs to take into account the types of household that might want to move into them e.g. a two bed flat that was big enough for someone to downsize into from a four bed house."

Chris Norris, Director of Policy & Practice, NRLA
Therefore, homeworking, multi-generational living and smaller households are trends that can help ease pressure on housing.
"There is a huge opportunity if in the future people are able to work from more remote rural areas, allowing young people to remain in rural communities and make a living."

Maddy Fitzgerald, The Prince's Countryside Fun
Nationwide is calling for members, experts and the wider public to give their views on what is broken in the housing market and what potential solutions there are by emailing futureofhome@nationwide.co.uk