The essential guide to provider collaboratives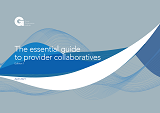 This report is part of a growing series of reports developed by the Good Governance Institute (GGI) that consider issues contributing to the better governance of healthcare organisations.
This 'how to' guide aims to clarity what is meant by 'provider collaborative', explain the benefits, demonstrate how to set up and/or join a provider collaborative and show how the Good Government Institute (GGI) can help.
Included in the guide is:
Why providers collaboratives are important.
The role of provider collaboratives in integrated care systems.
The benefits of provider collaboratives.
The process for forming/joining a provider collaborative.
Guiding principles.
Common pitfalls and success factors.
And, how GGI can help.
Targeted towards the senior leadership of NHS trusts and NHS foundations trusts, as well as other existing and potential suppliers to and partners of provider collaboratives, this document reveals how provider collaboratives will help meet health and social care challenges.
This guide is timely, as the white paper 'Integration and Innovation: working to improve health and social care for all' was published in February 2021 and sets out legislative options for Integrated Care Systems. Similarly, the response to the COVID-19 pandemic has accelerated the extent and prevalence of NHS providers working collaboratively with each other across systems.