The economic and social benefits of housing support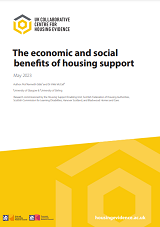 This paper, published by UK Collaborative Centre for Housing Evidence and written by Prof Ken Gibb, Director and Principal Investigator of the UK Collaborative Centre for Housing Evidence (CaCHE) and Dr McCall, Senior Lecturer in Social Policy and Housing at the University of Stirling, looks at the increasingly important, yet under researched, area of Housing Support.
It looks at Housing Support that has evolved from a traditional focus on landlord-tenant activity to being a key mechanism that supports wider economic and social benefits (including health and community outcomes for individuals), and offers a literature review of the existing information about the costs and benefits associated with preventative Housing Support models.
This considers the full range of Housing Support services including:
those working with people facing homelessness and/or addictions;
people with learning difficulties;
people with mental health problems;
people facing domestic abuse;
older people and disabled people.
The report also outlines vignettes and case studies to illustrate the nuanced web of Housing Support and the many different roles it plays.