The Tech Pandemic: the long-term impact of COVID-19 on usage of technology in specialist housing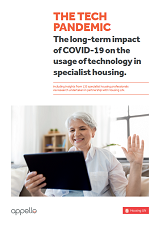 Findings from the research undertaken by Appello, the UK's leading digital, technology enabled care service (TECS) provider, and the Housing Learning and Improvement Network (HLIN) paints a promising picture for the future of digital care technologies, with 82% of specialist housing providers claiming that changes in perceptions will have a long-term influence beyond the pandemic.
Iain Hockings, Marketing Manager at Appello said:
"We conducted research at the start of the pandemic which highlighted how beneficial technology was in the response by housing providers to the challenges faced. Just over a year later, this latest research shows that the overwhelming majority are still experiencing the benefits technology can bring in delivering services to customers and want technology adoption to be one of the positives to come out of the last 18 months".
The results were revealed from a survey of 133 senior executives, from providers of supported, sheltered and retirement housing:
The large majority (89%) of specialist housing providers believe their frontline staff have a greater appetite for using technology in their roles due to COVID-19.
Furthermore, 79% feel there has been an increase in interest in technology amongst customers living in their properties.
From those surveyed, 62% planned to increase their investment in technology to keep pace with these changing expectations.
The survey also highlighted how the majority of housing providers (63%) expect to increase remote working amongst traditional site-based staff, with over 1 in 4 thinking this will increase significantly.
Jeremy Porteus, Chief Executive, Housing Learning and Improvement Network (HLIN) commented:
"Throughout the last 18 months we have all experienced how technology can enable new ways of working. We have seen many positive stories of embracement and empowerment that have enabled specialist housing providers to continue their services. It is a real positive to see through this research a desire amongst housing providers to embrace change long-term. The results of this survey and findings outlined in this paper are increasingly important for the specialist housing sector and the role of technology post-COVID, as well how we live with COVID, to support people in specialist housing and inform how services will be further enabled."