The State of Ageing in 2019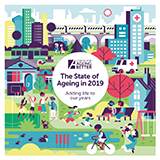 This report from the Centre for Ageing Better gives a snapshot of ageing today and in the future.
We are experiencing a colossal demographic shift, living ten years longer than our parents' generation on average and nearly two decades longer than our grandparents' generation. This social revolution has implications for every part of our society and how we think about and live our lives.
How prepared is society for our longer lives? This report, 'The State of Ageing in 2019', uses publicly available data to give a snapshot of what life is like for people aged 65 and older today. It also investigates the prospects for people currently in their 50s and 60s looking across four crucial areas: work and finances, housing, health and communities.