The Last Time Buyer: housing and finance for an ageing society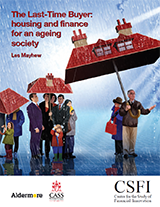 Housing policy is too concentrated on first-time buyers and should be refocused towards 'last-time buyers' to encourage those aged 55+ to downsize, according to a new report for the Centre for the Study of Financial Innovation (CSFI).
The report, by Professor Les Mayhew, of Cass Business School, also highlights the role of the financial services industry in expanding mortgage offerings and insurance policies to enable older people to monetise their housing wealth. This would not only help them fund retirement but also cover the rising cost of care.
The UK's housing crisis is the result of a growing population and an inadequate supply of new homes. Demographic analysis suggests that the demand for accommodation could add the equivalent of two new towns, each with 100,000 homes, every year for 25 years.