The Kerslake Commission on Homelessness and Rough Sleepers Interim report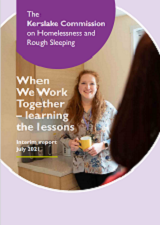 The Kerslake Commission has been convened to examine the lessons from the COVID-19 public health emergency response to rough sleeping, and to understand how the significant progress made can be embedded in the long term.
The Commission's Interim Report received 104 evidence submissions from people with lived experience, Local Authorities, and the health, housing and homelessness sector alongside two literature reviews into the response. It provides an overview of the positive lessons from the COVID-19 emergency response, the limitations and challenges, and budget recommendations ahead of the 2021 Comprehensive Spending Review.
Some recommendations, include:
The Ministry of Housing, Communities and Local Government (MHCLG) should increase grant funding for social rented housing delivered through the Affordable Homes Programme, to meet the housing and homelessness sector's recommended target of building 90,000 homes a year.
Bridge funding should be provided for the Housing First pilots, to allow time for evaluation, and this should inform a national roll out of the model, supported through long term funding and affordable tenancies. Wherever possible, the solution to homelessness should focus on providing permanent homes rather than temporary accommodation.
The Government should increase the supply of social and supported housing through the continuation of the Affordable Homes Programme, but ensure capital funding is linked to multi-year revenue funding for support services.
Its aim is to help all agencies involved in supporting those who are tough sleeping, or homeless and at risk of tough sleeping, to understand what worked during the pandemic and what is now needed to embed the good practice that was shown during the past year.