The Impact of Analogue to Digital Migration on Technology Enabled Care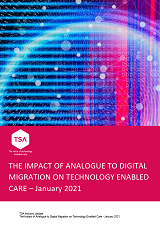 This TSA paper provides a set of actions that will aid in the protection of services and service users as part of the digital switchover.
The TSA is recommending that service providers take urgent action to review the impact on their older networked alarm services of the transition to digital telecommunications infrastructure across the UK. The paper highlights key action points, identifying how to mitigate against risk, what organisations should be testing and what next steps to take.
By December 2025, the majority of UK businesses and residential premises will be accessing high speed connectivity for voice and data services in place of phone line technology. What this means is in practice is that systems and devices employed in the TEC sector should be migrated quickly to technologies which are designed to operate reliably over digital landline and/or mobile networks. Premises may migrate entirely to optical fibre infrastructure or to a mix of both copper and optical fibre, depending on geography.
Further advise is available from the TSA at: www.tsa-voice.org.uk (opens new window)