The Housing with Care Grey Paper: Personal stories and policy ideas on strengthening housing with care for older people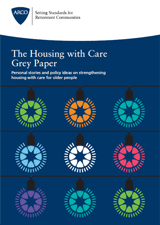 A cross-party group of MPs and Peers have joined forces with leaders from academia, finance, local politics and housing to call for urgent Government action to improve housing and care options for older people, in a new 'Housing with Care Grey Paper' published ARCO. The paper says the UK is at a "critical juncture" and one of its recommendations calls for a cross-government Housing with Care Task Force.
The Grey Paper, which features essays and policy recommendations from 14 high-profile authors, including 'A roadmap to housing for an ageing population' by the Housing LIN's Jeremy Porteus, says:
"the COVID-19 pandemic has illuminated the urgent need to provide better support for older and more vulnerable people", and that "we have a duty to transform our housing and care provision so that it provides security, dignity, health and flourishment in later life".
The report's authors set out a series of concrete policy actions for the Government to improve housing and care provision, including:
A cross-government Housing with Care Task Force
Greater clarity in the planning system to define different types of older people's housing, including a new planning category for housing with care
Better financial incentives for older people to 'rightsize' into more suitable properties
Expanding the number of 'lifetime homes' fit for all ages
Securing a better deal for paid and unpaid care workers
A sustainable funding formula for social care, including a Universal Care Entitlement
Michael Voges, Executive Director of ARCO, said:
"The new Housing with Care Grey Paper demonstrates just how much cross-party and cross-society support there is for better housing provision and expansion of care options for older people. We're delighted to have received 14 thoughtful and incisive contributions from figures across politics, academia, finance, housing and more, and we urge the Government to take their recommendations seriously. What unites the pieces is the sense that bringing about change is going to require cross-government action, and that's exactly why we're calling for a Housing with Care Task Force to be set up with immediate effect."