The Hidden Housing Market: A new perspective on the market case for accessible homes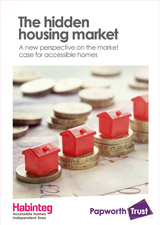 New research report by Habinteg and Papworth Trust highlights the hidden housing market for 1.8m disabled people. Its findings clearly show the demand for accessible housing to rent and buy.
Conducted by teams at the London School of Economics (LSE) and Ipsos Mori, the report uncovers a fresh view that challenges assumptions about the potential for disabled people to buy their own home.
It sheds light on the wider appeal of homes that deliver higher quality accessible feature and also demonstrates some of the profound effects on working age disabled people of not having their need for accessible housing met.
This includes an impact on health and wellbeing, the ability to engage in community life and, crucially, the employment market.