The Good Home Dialogue - The homes we have and the homes we want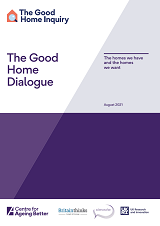 With over four million poor-quality homes in England, new research from BritainThinks has highlighted the main barriers, motivations and favoured policy solutions to how we improve the nation's homes.
The project brought together 89 people from all tenures experiencing problems with their homes alongside housing experts and policymakers.
Some of the key points the research revealed:
The most favoured policy solution was a local 'one-stop-shop' that could provide information and advice, access to finance options, and help to find trusted tradespeople to carry out the work.
The least favoured policy solution was the idea of a low interest Green Loan to fund improvements with environmental benefits.
Both people who rent and those who own their homes told us that the government has a fundamental responsibility to ensure that homes meet basic requirements for a good standard of living. They feel that poor-quality housing is a significant problem that needs to be addressed.