The Cost of Inequality – putting a price on health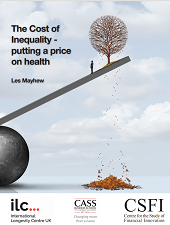 Published by the Centre for the Study of Financial Innovation (CFSI), in partnership with International Longevity Centre UK (ILC-UK) and The Business School at City University, this paper argues that supporting people to spend more time in good health could help boost people's time in work, reduce health and care costs, as well as welfare costs on the state.
The unique methodological approach to the study helped provide a scale of inequality that addressed a new scope of questions, such as whether life extensions are affordable without improvement in health.
Early findings presented in the report found that:
A one-year extension in health life expectancy would add approximately 3.4 months to working lives and 4.5 months to over all life expectancy. In turn, reducing income taxes by 0.6%.
It is more efficient to focus policy on increasing health life expectancy than on expanding the total life span.
And calls for investment in:
health, including preventative services;
skills training;
and technological innovation.
The report urges the government's new Office for Health Promotion to support join-up research that offers real solution by not only working with bodies that promote improvements to health life expectancy and longevity, but also with those focusing on raising productivity and level of economic activity as part of the 'levelling-up' agenda.