Sustainable County Social Care: A Green Paper that Delivers a New Deal for Counties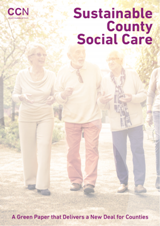 England's largest councils have backed government plans to introduce a cap on care – but warn that it must be fully-funded otherwise it will inadvertently push services, care providers and councils closer to breaking point.
The recommendation for a fully-costed cap comes in this new report which sets out the County Councils Network's policy positions on adult social care, ahead of the forthcoming government green paper. In addition, there are recommendations on:
Design: making Part M Lifetime Home compliant
Adaptations: aligning DFGs with social care objetives
Planning: differentiate retirement housing from general use housing
Strategic needs assessments (SHOP)
There is also a section covering housing and a case study on Hampshire County Council's extra care housing strategy.