Stronger Together: A Co-production Toolkit from Ageing Better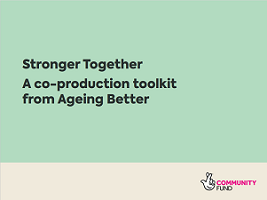 Ageing Better have launched the Stronger Together toolkit co-created by the 14 national Ageing Better programmes across England as a one stop, user friendly space where collective experiences are shared.
The toolkit brings to life the work of Ageing Better programme in a way that can be accessed by anyone wanting to work with people in their communities, whether at a strategic, operational or grassroots level.
The toolkit is organised into 12 distinct co-production themes:
Creating a co-production culture
Community development through micro-funding
Tackling ageism through co-production & age friendly communities
Co-production within coastal & rural communities
Tackling loneliness through co-commissioning
Empowering communities through partnership working
Co-researching within the community
Growing sustainable groups
Diversity& inclusion
Creativity in co-production
Asset based community development
Co-production in a crisis
This toolkit is for anyone looking to use a co-production approach to involve people in the design of services, projects or activities that impact them and their communities.