Stockpiling Space: How the pandemic has increased housing inequalities between older and younger generations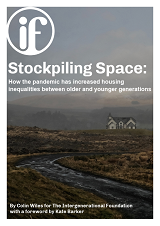 According to research from the Intergenerational Foundation, COVID-19 has exacerbated housing inequalities, including between the young and the old. The resultant report reveals housing inequalities over the last decade and during the COVID-19 pandemic, in particular in relation to growing inequalities in housing assets and housing space between renters and owners, between rich and poor, and most significantly between the generations. It concludes that England now has two housing nations.
Key findings are:
While younger generations have lost their jobs, their homes and even their mental health during COVID-19, older generations have stockpiled space
There are now 5.5 million second homes in England – a 50% increase between 2011 and 2020 – and they are owned primarily by older people
52% of owners now under-occupy their homes, with housing assets and space passing from renters to owners and from younger generations to older generations
The first nation is older, well-housed, often well-off, with space to work and self-isolate
The second nation is younger and live in cramped flats or shared homes with little or no access to outside space
While the percentage of younger generations owning a home has declined since 2003, ownership by the over–55s has held steady, while the over–65s have increased their share
As the pandemic has unfolded access to space has driven demand, with older and well-off people buying up larger and more expensive properties in larger numbers. London has led the trend with purchases of second homes outside the capital up 309% over 2019
Space inequality has also increased, with owner-occupied homes enjoying a third more space (108m2) on average than privately rented homes (76m2) and almost double the space as a social home, and just 7% of 55–65 year-olds reporting a lack of outside space compared to 21% of 25–34 year-olds
On a country level, before the pandemic struck, more than 1 million children were living in households with one bedroom less than the bedroom standard. Add a pandemic, and these households have experienced less space to move around in than older, more privileged households.