Stan and Elizabeth - living together independently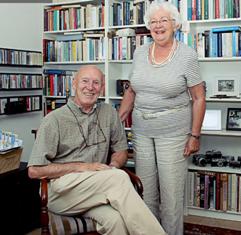 Stan and Elizabeth are in their 70s and have been married for 50 years. Six years ago they moved from a three bedroom house to a bungalow with a smaller garden and everything on one level. Four years ago Elizabeth started to show signs of dementia and more recently had several falls. After two months in residential care where she was not happy she came home but was reliant on Stan for help with everything.
They chose to buy a flat in a newly opened extra care housing scheme close to other family members. Stan says 'it seemed like the best plan for the future. Although I'm fit now I don't know what will happen in a few years time, this way we know that all our care needs will be met'. Elizabeth receives support five times a day to help with getting up, washing, using the toilet, getting dressed and getting ready for bed. They have decorated and furnished the flat to suit their tastes, they have space to entertain friends and family and can make meals and drinks when they want to.
Stan is fit and they have their own car so he can get out and about and take Elizabeth out as well. Because there is always help on hand he can go out on his own knowing that Elizabeth is safe. 'I enjoy going out but if I didn't feel like it I know there is company here and organised activities'.