Silver Hues: Building Age-Ready Cities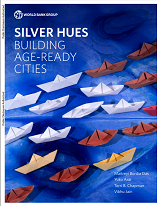 This report puts forward the idea of age-readiness, building on the concept of the WHO's work on age-friendliness. It highlights the varied trajectories of ageing within an urban context at a global level and draws on the experiences of older and more urban countries to show and set out how others can become age-ready.
The report also acknowledges the unique role older persons play in society and underscores the need for policymakers to intentionally invest in the availability, affordability, and accessibility of infrastructure and services to make their cities age-ready, not just around older people but intergenerationally.
To this end, the report recommends that a good starting point for cities and towns to make progress toward age-readiness is to focus on the following 7 key areas:
Universal design
Housing solutions
Creating multigenerational spaces
Better transportation
Technology
Efficient spatial forms
Inclusion and progress toward age-readiness