Secure, Accessible, Friendly, Equal (SAFE) Housing: The housing experiences, concerns and preferences of Older LGBT* people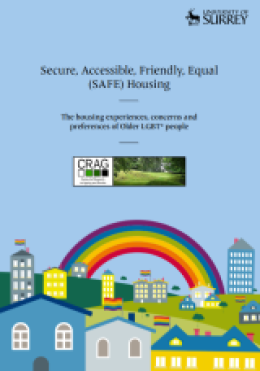 The SAFE study by The Centre for Research on Ageing and Gender and The University of Surrey aims to fill a gap in knowledge about older LGBT* people and their housing needs –building an evidence base that can be used to inform future policy, service practices and research.
It highlights the importance of understanding the housing experiences, concerns and preferences of older LGBT* people, by taking into account people's interactions and relationships with others. It also recommends that policy makers and housing providers need to consider not only the individual's needs –important as these are –but how individuals are connected to others. In particular, it offers the following recommendations:
Create a range of housing options People should be able to age-in-place and/ or have access to specialist facilities that recognise diversity and difference within L,G,B and T* communities. There needs to be a 'mosaic' approach to housing and older LGBT* people –people want a variety of choices.
Raise awareness in LGBT* communities and amongst policy makers We need to build awareness of housing issues in LGBT* communities to enable people to plan ahead and make informed choices as they get older. We also need to inform and educate housing policy makers and providers.
Conduct more research SAFE Housing was a pilot study for a much larger study to be run across the country – we learned a lot about housing preferences but we still don't fully know about the diverse needs of older LGBT* people and what they want.
Address the knowledge gaps We need to know more about the future housing needs of specific groups of older LGBT* people, particularly those from working class backgrounds, from Black, Asian and minority ethnic (BAME) communities, and gender diverse, nonbinary and intersex people.