Robotics in Social Care: A Connected Care EcoSystem for Independent Living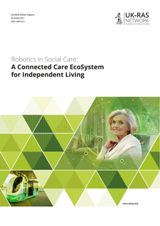 In this white paper, the UK-RAS Network looks at the emerging crisis in UK social care and presents their vision for creating a connected care ecosystem linking home, residential and hospital care as a continuum.
It points out that a priority for the UK government is to care for older people and those living with long-term conditions. Over 11 million people living in the UK are aged 65 or older. The latest projections are for this figure to reach 14 million by 2025 and almost 19 million by 2045. The number of individuals disabled by one or more long-term condition is also increasing, driven by overall population growth, improved health care and sedentary lifestyles. Caring for older people, particularly those with disabilities, places a significant strain on the economy.
It highlights examples of innovation, including through advanced robotic and autonomous systems that can have an important role to play. It calls for a clear roadmap for a connected care system for independent living to provide a long-term sustainable social care solutions for the UK.