Review of Progress with Integration of Health and Social Care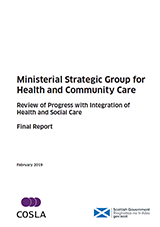 Since 2016, work has been underway across Scotland to integrate health and social care services. This report from the Ministerial Strategic Group for Health and Community Care examines how much progress has been made.
By integrating the planning and provision of care, partners in the public, third and independent sectors are improving people's experience of care along with its quality and sustainability. Evidence is emerging of good progress in local systems.