Retirement Living - JLL Housing with Care Index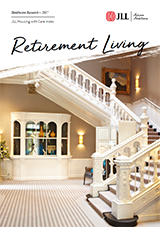 This report sets out a Housing with Care index alongside further analysis on the vast potential of this growing market in the UK.
By 2025, the number of over 65s in the UK will have increased by 22% since 2015 to 14.3 million.
Housing with Care represents a major opportunity for investors and developers. There is a substantial under supply of units within the mid and upper market tiers and a rapidly growing older person population.