Retirement Housing: Marketing retirement housing as aspirational and not a sign of crisis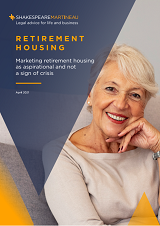 A cross-industry steering group, including the Housing LIN, has published a research report that highlights a significant disparity between public perception and actual offering at retirement housing schemes, as well as identifying clear issues with language and missed opportunities by the retirement housing sector's marketing approach.
Commissioned by law firm Shakespeare Martineau, the research included a consumer survey of 2,000 UK adults and 100 representatives from retirement housing providers. Of those public respondents, 1 in 3 members of the public believe retirement housing schemes are synonymous with 'old people's homes' and there was disconnect between the services the public expected compared to the services actually offered by housing providers. For example, more than half of the public respondents expected a medical centre or 24/7 emergency response to be available, when in fact closer to only 1 in 3 providers selected this service as one they did provide, indicating that providers are coming up short of the expectations of the public.
The resultant report indicates an untapped potential and referrer market. When asked if they would consider moving into a retirement housing scheme themselves, public respondents were unsure – only 8% saying they would 'definitely' consider moving in. More than 3 in 4 people responded with either 'maybe' or 'don't know' indicating a huge market-base of potential customers, who either need further information or further convincing of why they should 'definitely' consider retirement housing schemes. It also highlights the need to focus on celebrating the benefits of schemes over and above labelling schemes with words such as 'retirement' and 'older people' – opening them up to more people.
The Housing LIN's Jeremy Porteus, said:
"There is an ageism issue; retirement housing has historically been built on a dependency model, not aspirational, where people have been placed into retirement housing, instead of it being a decision or a desire of the individual. While the product works and has clear benefits we urgently need to rethink our marketing approach so that residents, communities, housebuilders and local government understand the social and economic value of this important sector."