Resetting the Digital Premium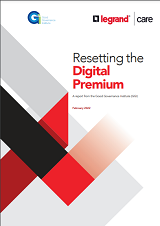 This report, published by the Good Governance Institute (GGI), outlines how digital can be embraced across public services in a smart and innovative way.
Based on learning and collaboration between sectors, this paper focuses on the practical steps that can be taken to achieve this digital premium and make a real difference to the lives of people and communities across four key themes:
Place
Predictive technology and population health
Security and wellbeing at home
New digital standards.
This paper provides best practice examples and case studies – including the RE-COV study that revealed people in retirement villages and extra care housing organisations were better protected in the pandemic and had much lower death rates than people of a similar age in the general population – to highlight potential pitfalls for health, social care and housing organisations seeking to improve their digital suite
Jeremy Porteus, Housing LIN's CEO, commented:
"Following recent government policy announcements on a systems shift towards integration and a people shift to greater personalisation of care and support at home, this is an extremely timely white paper. Not only does it reset the digital premium and give examples that demonstrate how service transformation have been achieved, its recommendations provide a green light to technology-enabled policy and practice advancement."
This paper, that follows the TAPPI Inquiry report, advocates that connecting digital "thinking and doing" with good governance enables proper stewardship of public assets and the public interest.