Research on Digital Exclusion since the Covid-19 pandemic 2020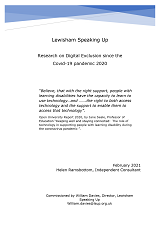 This report by Lewisham Speaking Up (LSU) addresses the experience of digital exclusion during Covid-19 of people with learning disabilities.
It conducted reseasrch to find out how people with learning disabilities locally are digitally excluded; what barriers they face and what support they need to get online.
It makes a number of important recommendations, including:
Many people with learning disabilities in Lewisham do not have access to suitable devices, reliable broadband or support to use digital technology.
People with learning disabilities say they need to use digital technology for a wide range of reasons and that they gain many benefits when using it.
Several day services and support providers in Lewisham do not have sufficient hardware, fast broadband, paid-for contracts and trained support staff with enough capacity to offer adequate IT support to people with learning disabilities.
There are serious cost implications for organisations needing to upgrade hard/software, install faster broadband, supply devices and train support staff/carers to support people with learning disabilities.
Many carers, family members and support workers in Lewisham are not adequately trained or paid for their time to support people with learning disabilities to access digital technology.
Support providers in Lewisham would like LSU to offer help in training their support staff, or in accessing funds to do so.
Support providers would like LSU to research, co-ordinate and publicise existing and new models/opportunities for promoting digital inclusion, and;
All organisations working in support for people with learning disabilities should continue to offer digital/online services in the future as one of a range of ways of accessing support.