Research into the supported housing sector's impact on homelessness prevention, health and wellbeing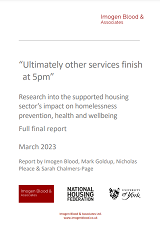 The National Housing Federation and their members wanted to better understand how supported housing specifically impacts homelessness, health and wellbeing. They also wanted to further understand the challenges that it faces and the ways in which it supports and interacts with the NHS, social care, the justice system and other public services.
They commissioned Imogen Blood & Associates (opens new window), in partnership with the Centre for Housing Policy at the University of York, to carry out this research.
The research comprised a snapshot survey of 2119 individuals living in supported housing projects for working age adults on 1 August 2022, alongside in-depth, qualitative interviews with 30 professionals working within the sector.
Some of the key findings included:
Good quality supported housing has a significant positive impact on its residents' health, wellbeing and sense of social connection.
Supported housing plays a critical role in reducing homelessness and relieving pressures on the social care, health, criminal justice and housing sectors - ultimately lessening demands on the public purse.
Short-term and transitional supported housing is playing a key role in reducing and/or preventing higher-risk forms of homelessness, such as rough sleeping.
Supported housing residents have complex needs: 9 out of 10 have at least one health condition or disability (including substance misuse, mental ill-health, learning disability/autistic spectrum disorder and physical conditions), and half of them are experiencing more than one of these conditions.
Were it not for supported housing, there would be an increase in core homelessness of around 41,000 people, with a further 30,000 people at significant risk of future homelessness (the cost to the public purse of long-term homelessness has been estimated at over £40,000 per person per year).
One of the biggest challenges facing supported housing is the reduction in funding over time.
The ability to move people on into independent tenancies is limited by a lack of affordable and suitable housing