Reimagining social care - a study in three places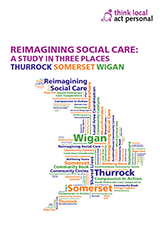 This study looks at how some councils are seeking to transform social care by working closely with innovative providers and shifting their own approach to commissioning.
Based on three sites – in Thurrock, Somerset and Wigan, it explores what councils are doing to re-define the relationship between themselves and the communities they serve.
This report should be of interest to everyone who is committed to finding workable and authentic ways of providing care and support that is rooted in people and communities.