Regenerating the Aylesbury: Inter-generational urban extra care housing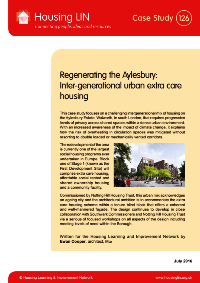 This Housing LIN Case Study no 126 focuses on a challenging intergenerational mix of housing on the Aylesbury Estate, Walworth, in south London, that requires progressive levels of privacy across shared spaces within a dense urban environment. With an increased awareness of the impact of climate change, it explains how the risk of overheating in circulation spaces was mitigated without resorting to double loaded or mechanically vented corridors.
Shortlisted at the 2016 Housing Design Awards, the redevelopment of the area is currently one of the largest social housing programs ever undertaken in Europe. Block one of Stage 1 (known as the First Development Site) will comprise extra care housing, affordable social rented and shared ownership housing and a community facility.
Commissioned by Notting Hill Housing Trust, this urban mix acknowledges an ageing city and the architectural ambition is to accommodate the extra care housing scheme within a tenure blind block that offers a coherent and well-mannered façade. The design continues to develop in close collaboration with Southwark Commissioners and Notting Hill Housing Trust via a serious of focused workshops on all aspects of the design including meeting levels of need within the Borough.