Reframing dementia: a guide to living with dementia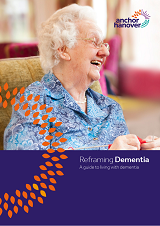 New research by Anchor Hanover reveals a lack of awareness of the prevalence of dementia, and a deep-rooted reluctance to think and talk about it. Furthermore, it suggests that rates of dementia diagnosis have fallen during the pandemic.
The practical guide seeks to help people start these important conversations, so that families can proactively plan for dementia and ensure anyone who does develop it can still lead a fulfilling life. It includes information on how to spot dementia, how to start difficult conversations and how to support people with dementia, with options and innovations available
The research found that, as a nation, the UK is remarkably reluctant to think and talk about dementia. Nearly half (47%) have never had a conversation about it with loved ones and the public would much rather discuss divorce, break-ups and our weight, than dementia.
Strikingly, one in three (32%) simply bury their head in the sand and 'don't want to talk about it'. It highlights that the implications of this have been brought into sharp relief by the COVID-19 pandemic, with recent NHS data showing a decline in the number of dementia diagnoses since the pandemic began.
Promisingly, there are signs of change, as the pandemic has encouraged people to rethink what they want from their lives. Over half (56%) of the public say that the pandemic has made them realise the importance of planning for later life and it has made them think more about later life care for themselves and their loved ones (51%).