Reforms to national planning policy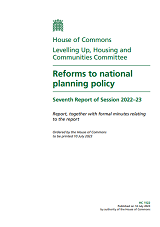 A Levelling Up, Housing and Communities House of Committee report finds that the Government's reforms of national planning policy has caused uncertainty for local authorities and planners, delayed local plans, and slowed new housebuilding.
It states that the Government's reforms to national planning policy will fail if local authorities lack sufficient resources to implement them and calls for urgent action to ensure the delivery of its target of 300,000 new homes by the mid-2020s.
And with regard to the Older People's Housing Task Force in mind, and its focus on boosting the supply of specialist housing, the Committee's report makes a reference to: "there is a need for additional social and specialist housing".
The Government has 3 months to respond to the Committee's report.