Reducing Delayed Transfer of Care through housing interventions: Evidence of Impact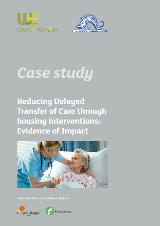 This Care and Repair England and Foundations case study is designed to help older patients to return home from hospital more rapidly and safety.
An independent evaluation examined all case records, interviewed 15 hospital staff and undertook an in depth analysis of a sample of 4 cases.
The evaluation concluded that a clear business case exists for funding a service capable of co-ordinating and meeting the cost of small and fast repairs (by the HIA handypersons) and organising minor adaptations, decluttering, repairs and deep cleaning by trusted contractors.