Putting ideas into action: Developing a local Good Home Hub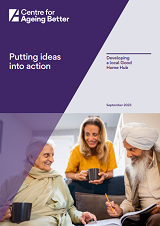 Published by the Centre for Ageing Better, this report details their research and pilot work on building effective local home improvement services, or 'Good Home Hubs'.
We all need a decent place to call home to enable us to live and age well. At the moment services to support people to improve or maintain their home vary significantly across the country and many residents are put off making necessary improvements because of the challenges they face, such as a lack of advice or money.
The Good Home Inquiry identified the need for local Good Home Hubs and this report explores the steps that can be taken by any area to develop such services, using insights and learning gathered from the process undertaken in Lincolnshire to inform others looking to take a user-centred approach to developing their housing services.