Promising Approaches Revisited: Effective action on loneliness in later life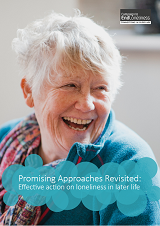 This guide from the Campaign to End Loneliness, intended to help commissioners and funders of services to support older people and deliver more effective loneliness interventions, provides a framework to help decision-makers address loneliness and explains how different approaches fit together to create effective community response.
It highlights the impact of Covid-19 on the state of loneliness and isolation in the UK – as well as the different organisational responses to help address these impacts.
The guide additionally explores the best way forward for investment in, and running of, loneliness interventions. The report includes 33 case studies drawn from across the UK. A further twenty supplementary case studies provide additional depth (opens new window) to the promising approaches springing up across the country.