Prevalence of Dementia in Extra Care Housing in the UK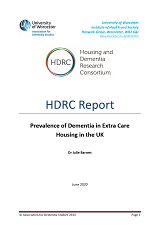 This report from the Association of Dementia Studies at the University of Worcester, collates data from several individual housing operators and multi-provider studies from the Housing and Dementia Research Consortium (HDRC) to provide figures for the prevalence of dementia among residents of extra care housing settings in the UK.
Increasing numbers of people with dementia are supported in specialist housing. Extra care housing is now widely viewed as an alternative form of accommodation to care or nursing homes that can provide opportunities for maximising independence while providing flexible, personalised care and support services. However, there has been much debate on whether these facilities provide a suitable environment and service to residents who have dementia.
The HDRC's report concludes that:
The average percentage of extra care housing residents living with a diagnosis of dementia is around 16%
The average percentage of extra care housing residents living with suspected but undiagnosed / undeclared dementia is around 7%
The average percentage of extra care housing residents living with diagnosed dementia or suspected but undiagnosed / undeclared dementia is 23%