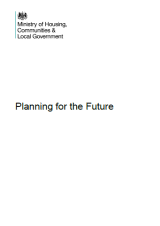 After the announcement of the 2020 budget, the Ministry of Housing, Communities & Local Government has published a policy paper that sets out the government's plans for housing and planning.
The paper states that the government will:
Support communities to make the best use of the land. These include:
Investing £400m to use brownfield land productively
Launching a national brownfield map and a call for proposals for building above stations
Speed up the planning system by:
Expanding the use of zoning tools to support development
Issue automatic rebates where planning applications are successful at appeal
Help first time buyers onto the housing ladder by:
Cutting the cost of new homes through the First Home scheme
Exploring how to encourage a market for long-term fixed rate mortgages
Introduce a national Shared Ownership model
Alongside these proposals are additional statements on the topics of: improving home sustainability, improving the security of housing, and improving the affordability of the homes.
For more on planning for an ageing population, visit the Housing LIN's online planning portal.