Planning Healthy Ageing Communities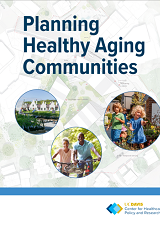 Drawing on the work of Housing for Our Ageing Population: Panel for Innovation (HAPPI) and case study report by the Housing LIN, this report by the Centre for Healthcare Policy and Research (CHPR) provides information on land-use planning and community design that can help address the growing health and housing needs of the ageing population.
This report offers a unique combination of information and resources from a planning-for-health perspective. It includes:
An evidence review about the health effects of land use planning and design,
current planning guidelines and toolkits,
and useful interview insights.
The report also reviews the role of digital technology in healthy aging, and opportunities for community partnerships to support the planning and development of healthy aging communities. Alongside planning recommendations for developers, planners, and policy makers, this report seeks to inform and inspire other key stakeholders in the development of innovative healthy aging communities, including adults with intellectual and developmental disabilities.