Pioneer Intergenerational Co-Housing – The Cockaigne Houses in Hatfield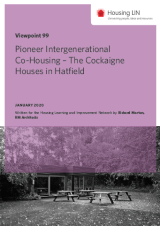 Housing LIN viewpoint 99 looks at the Cockaigne houses in Hatfield and reflects on what lessons we can draw from the scheme.
As recognised in the APPG on Housing and Care for Older People inquiry in 2016, it is a forerunner to the HAPPI principles and its attractive single storey design and build quality have stood the test of time.
The development was not specifically designed for older people, but both the adaptable design and the management are based on cooperative ideals and most of the residents are now of retirement age with 11 of the 28 households being 'downsizers'.
Written for the Housing LIN by Richard Morton, of RM Architects, this Viewpoint asks what lessons we can learn from the success of the Cockaigne houses.