Park Home Living - a good housing option for later life?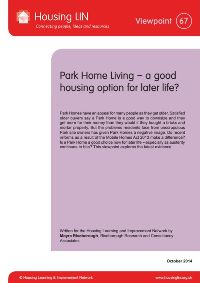 This Housing LIN Viewpoint no 67 explores the appeal that park homes have for many people as they get older. Satisfied older buyers say a Park Home is a good way to downsize and they get more for their money than they would if they bought a bricks and mortar property. But the problems residents face from unscrupulous Park site owners has given Park Homes a negative image.
Do recent reforms as a result of the Mobile Homes Act 2013 make a difference? Is a Park Home a good choice now for later life - especially as austerity continues to bite? Thus viewpoint explores the latest evidence.