Older under-occupying owners, will they ever move? Is the decision to relocate a moving target, more difficult than the move itself? How Can FreeSpace schemes help?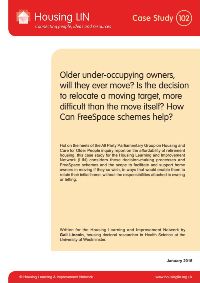 This Housing LIN Case Study No 102 examines whether FreeSpace schemes have the scope to facilitate and support older home owners in moving if they so wish, in ways that would enable them to retain their initial home, without the responsibilities attached to owning or letting.
Under the scheme, councils arrange for elderly people to move into rented homes or sheltered housing and then take responsibility for maintaining and letting their property at an affordable rate.