Older people and alcohol misuse: Helping people stay in their homes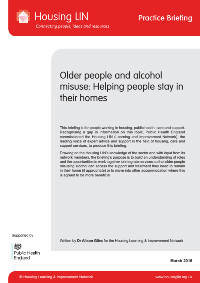 This Housing LIN Practice Briefing is for people working in housing, public health, care and support. Recognising a gap in information on this topic, Public Health England commissioned the Housing LIN (Learning and Improvement Network), the leading voice of expert advice and support in the field of housing, care and support services, to produce this briefing.
Drawing on the Housing LIN's knowledge of the sector and with input from its network members, the briefing's purpose is to build an understanding of roles and the opportunities to work together to integrate services so that older people misusing alcohol can access the support and treatment they need to remain in their home (if appropriate) or to move into other accommodation where this is agreed to be more beneficial.